Finnish Internet Forum 29.9.
25.10.2022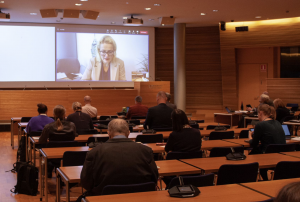 Finnish Internet Forum kokoontui 29.9. Eduskunnan lisärakennuksen auditoriossa kasvokkain kolmen vuoden koronatauon jälkeen. Foorumin teemat olivat sananvapauden tulevaisuus internetin jättiyritysten ja valtioiden lisääntyvän kiinnostuksen puristuksessa, EU:n uudet ja tulevat sääntelytoimet sekä alueellisten ja kansallisten internet-foorumien rooli Global Digital Compactin valmistelussa.
Tilaisuuden ohjelma oli seuraava:
10.00   Tapahtuman avaus LiV pj. Suna Kymäläinen
10.10   Liikenne- ja viestintäministeri Timo Harakan tervehdys
10.25   MEP Miapetra Kumpula-Natrin puheenvuoro
10.40   Ovatko alustatalouden jättiyritykset parasta mitä sananvapaudelle on tapahtunut sitten Gutenbergin vai Orwellin kuvittelemaakin pahempi uhka sille? Uhkaako valtioiden pyrkimys internetin keskustelun valvontaan tuhota sananvapauden vai pelastaako se meidät kaikelta pahuudelta – miten EU:n kaavailema "chatcontrol" vaikuttaisi?
12.00   Loun
13.00   Internet on uudistuvan EU-sääntelyn keskiössä, mutta mitä tämä kaikki tarkoittaa Suomelle? Tämän osion aikana keskustellaan datasääntelyn avaamista mahdollisuuksista, joita Sitra kartoitti kesäkuussa julkaistussa tutkimuksessaan, ja toivottavista seuraavista askelmerkeistä niin yksilön, yrittäjän kuin julkisen sektorin näkökulmista.
15.00   Towards Global Digital Compact: Internet Governance fora at all levels – global, regional, national – have a key role in the preparations for the Global Digital Compact (GDC), proposed by the U.N. Secretary General to be adopted at the Summit on the Future of the U.N. General Assembly 2023.   Sandra Hoferichter, Secretary-General of European Dialogue on internet Governance (EuroDIG), the pan-European Internet forum and Anja Gengo, the Focal Point for national and regional initiatives at the Secretariat of the global Internet Governance Forum, will lead the discussion.
Foorum keräsi paikan päällä noin 80 ja etäyhteydellä noin 200 osallistujaa.  Koko ohjelma on videotallenne on nähtävissä Internet Societyn Livestream-palvelussa  https://livestream.com/internetsociety/fiforum2022-2